The Floating Garden Festival commences soon and the British Waterways heritage boat Lindsay is set to visit Congleton and Rode Heath on its journey to Middlewich for the Folk and Boat Festival (13th – 15th June 2008). The boat will be florally decorated in an Alice in Wonderland theme using the talents of Chris Harrop, a Bollington based floral designer. Local societies and organisations have been invited to donate hanging baskets or tubs to help dress the boat which is a great way involve the local community in the event and the Year of Gardens 2008 programme.
Lindsay will be launched on 8th June from Bollington as part of the Floral Weekend celebrations. The boat will then travel through Bosley Locks and Macclesfield to arrive in Congleton on Monday 9th June. The boat will be moored up at the Queen Head Hotel overnight and everyone is welcome to come down and have a look at the floral creations.
Come and join us at the Queens Head Hotel in Congleton (Park Lane) on Tuesday 10th June for an evening of folk music with "Lost in the Mist", CAMRA Award Winning Cask Ales and locally sourced guest beers, from 7pm onwards. Everyone is invited and encouraged to come down to this traditional English pub to soak up the atmosphere, see the florally dressed boat, listen to the music and sample up to 7 quality cask ales. Tel: 01260 272546.
The boat will then head down to Rode Heath for the fun filled Odd Rode Festival on Wednesday 11th June. The boat will arrive about 2-3pm to be greeted by local school children with festivities commencing from approximately 4pm onwards. The boat will moor up outside The Broughton Arms Pub and there will be a bouncy castle for the children, the Rode Silver Brass Band will perform as will the local school brass band. There will be dancing from the local 'Trinity' dance troupe with more in the pipeline. Tel: 01260 291592 (Where possible please leave your cars at home).
For more details about the Floating Garden Festical please see www.visitcheshire.com/floatinggardenfestival or contact Phillippa Brown, Congleton Borough, Tourism Officer phillippa.brown@sece.co.uk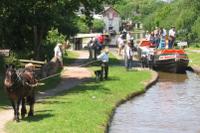 .