Many thanks to the 15 volunteers from the BTCV Green Gym® and Environment Agency who met up with me and worked together to clean up the River Darwen in Witton Country Park, Blackburn. The clean was held on 5th June as part of World Environment Day activities to draw attention to the litter problem in the River Darwen and encourage action for improvement. Thanks also to Blackburn with Darwen Borough Council for providing a skip, into which we put a couple of bicycles, many road safety barriers stamped 'Enterprise' and two shopping trolleys marked ASDA and Sainsbury's as well as lots of plastic bags, drinks bottles, pipework and scrap metal. Thanks to Simon Boocock form the Environment Agency for the photos to illustrating the improvement the clean up has made:
Before: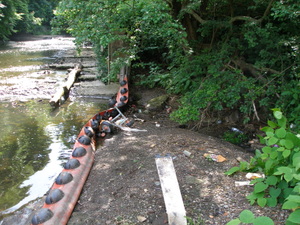 After:
It wasn't all hard graft though - I found out how to do the 'BTCV wave' during the warm up and warm down exercises (as it was a Green Gym® activity) and how they put the 'T' in BTCV: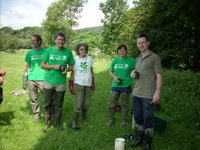 A good day was had by all and we were all pleased to see the litter trap boom being re-connected whilst we were working - hopefully the river will now continue to look as good as it does today !
For the full news story click here