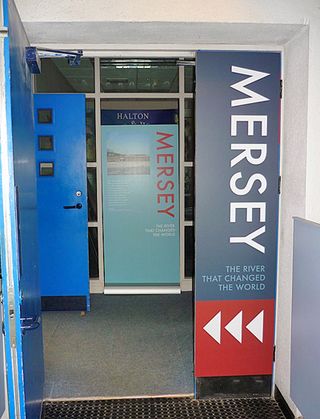 Whew, even in the heatwave (well, there was one until this morning....) we've been working our socks off on some exciting projects. For example, the Mersey: The river that changed the world exhibition was installed at the Catalyst Science Discovery Centre on Mersey Rd in Widnes this week. The exhibition looks great, featuring all of Colin McPherson's fantastic Mersey Road and Mersey People photography, as well as a special dedicated 'memory room' where you can leave us your most cherished Mersey memories, or tell us about your favourite spot along the river. If you're not in the Widnes area, but would like to contribute, feel free to email your memories of the river, or favourite locations to [email protected] .
The exhibition will be at the Catalyst until 20th September 2009, and the team have got some exciting themed events planned for later in the summer. If you visit, why not try taking your own photo of the river from the 4th floor observatory. Send us your pictures to the address above.
Thanks to ace exhibition designer Val Evans for all her hard work on this.....