Lancashire Partners Day at the new Brockholes Nature Reserve was a resounding success and the sun even shined for us. Who'd have thought 19 degrees full sun for the day? We hadn't bargained for that (sun cream crossed off the risk assessment)! We had a great turnout from partners across the county and made a huge difference to the habitat for wildlife at Brockholes Nature Reserve.
Organisations involved include BTCV, Lancashire County Council, North West Development Agency, Save The Ribble, Sefton Borough Council, South Ribble Borough Council, Lancashire & Blackpool Tourist Board, Care Ltd and The Wildlife Trust.
All the volunteers were most keen to get on with their tasks and attacked the unwanted trees and overgrown scrub with gusto despite the unusually warm working conditions. There was a great deal of networking between partners involved and everyone there felt a great sense of collective achievement looking at the site when we had finished work. A big thank you to all the volunteers and staff involved – a most satisfying day out for all.
Here are a couple of photos from today.
Whilst work was going on: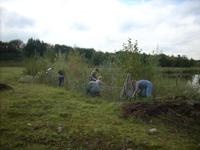 After encroaching trees and shrub had been removed: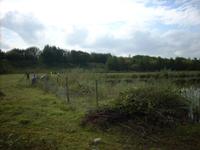 I asked several groups of volunteers if they'd like to give a comment for the BLOG – answers ranged from 'what a fantastic day' and 'this place has such huge potential' to 'I want to get on with this' and 'I'm coming back next week' (which has been happening quite regularly).
Here's a specific quote from Lancashire & Blackpool Tourist Board staff Diane Blakemore and Tim Dixon 'Our aim as an organization is to promote destinations in Lancashire and we want to see this site develop and to be a part of its future. Anything we can do to help. We will.'
Now we can look forward to the coming weekend of activity and hope to post and share more comments from participants at other events.
Until then, enjoy your MWH Mersey Basin Week 2007!
Addendum - November 2007 Since partners day, groups of volunteers have been back again at least twice and are helping the Wildlife Trust in its programme of regular volunteer days.