Hi there,
My name's Sammy the Salmon, and I'm about to embark on an exciting adventure. Nope, I'm not swimming upstream to reproduce, and I'm not about to become gourmet cuisine - I'm the star of the River Mersey Relay 2007!
Check me out - aren't I a handsome specimen?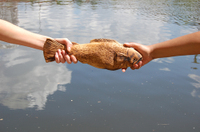 The relay starts tomorrow, Saturday 2nd June, from the beginning of the River Mersey at Ford Street, Stockport. Everyone who's anyone will be turning out to wish me 'bon voyage' as I set off on my epic journey - even the Deputy Mayor of Stockport will be there.
For the first part of my trip, I'll be letting Stockport Community Cyclists take the strain, as they carry me in style from Ford Street to Sale Water Park. I'm a bit nervous about tomorrow afternoon, though, because I'll be taking to the water with some canoeists who'll paddle from the Water Park to Carrington Recreation Ground. Swimming is all very well, but I've never been a huge fan of boats..........
Use the player above to hear Jim Court from Stockport Community Cyclists talking about the relay.
Tune in for the rest of the week, and I'll be letting you know how the journey's going, and how I'm coping with life on the road (chanelling Jack Kerouac, no doubt). John O'Groats to Lands End will have nothing on Ford Street, Stockport to Liverpool's Pier Head.
Have a look at my webpage to see exactly what I'll be up to.
Well, it beats Big Brother any day!
See you tomorrow - if I don't sink....
Sammy x