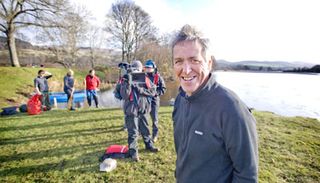 Picture by BBC / Modern TV
WATCH RIVERS WITH GRIFF RHYS JONES (NORTH) ON BBC iPLAYER
Sunday night's not usually my favourite TV-viewing time slot. I'm not a huge fan of Songs of Praise and the Antiques Roadshow fills me with an urge to finish my non-existent homework, so I tend to reserve Sunday nights for such joyous tasks as ironing, making packed dinners, and finally getting round to reading the Saturday papers. Last night, though, it was a different matter. I was on the couch ahead of time, bag packed, shirts ironed, and today's butties sitting in the fridge waiting for me to forget them on Monday morning. And what prompted this uncharacteristic display of efficiency? A surprise screening of The Goonies? Repeats of the 2005 Ashes series? No, it was the Northern-based episode of Griff Rhys Jones's epic Rivers series, and for the Mersey Basin Campaign there was lots to get excited about...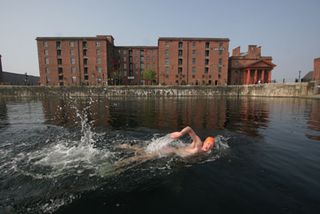 Picture by Colin McPherson
Our friend Dave Sandman, United Utilities sewage treatment worker and cross-Mersey swimmer challenged Griff to a swim across the Mersey, which had to be abandoned halfway because of the level of shipping traffic on the river (can't complain at that - and is it just me, or did Griff look slightly relieved to be back in the warm?).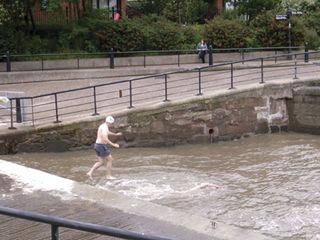 Griff takes the plunge - picture by Paul Cornwell
Dave is quite the media darling these days, but we like to think his big break came when he featured as one of our Mersey People back in 2007/8 - click here to visit the Mersey: the river that changed the world website, and listen to an interview with Dave, and his fellow Mersey People.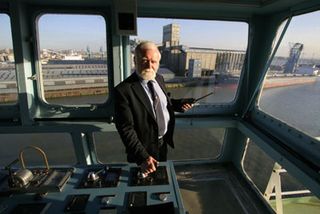 Talking of the Mersey People, Griff also helped a Mersey pilot, Geoff Rafferty, bring a huge ACL vessel into the Port of Liverpool. Two of Geoff's colleagues, John Curry and Tony Brand also took part in the Mersey People project -  you can listen to them discussing their work in this interview: Download Tony Brand and John Curry
At the other end of the Mersey, Griff also visited the Manchester Ship Canal, and went underground with Environment Agency staff at Moston Brook. It wasn't the Nine O'Clock News, but it was a great showcase for the Northwest's revitalised, thriving, and COLD rivers!