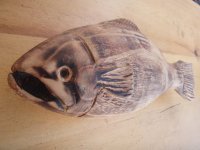 I've just spoken to Graeme Mullin from Green Team 2CV, who arrived back at Envirolink NW's Warrington office this morning, fresh from Ulan Bator, Mongolia. Graeme and his colleague Mark Whitworth managed to complete the Mongol Rally 2007 in an eco-friendly 2CV - in fact, they arrived at the British ambassador's reception with a whole day to spare.
Key to this success was travelling companion Samantha, the wooden Mersey salmon whom Mersey Basin Campaign asked to accompany the team. Samantha was representing the salmon who have returned to the cleaned-up River Mersey. However, with a typical salmon's determination to swim upstream and take on an impossible journey, Samantha has decided to remain overseas after the trip. Following a chance meeting in an UB bar, she is currently forging ahead to Japan, in the company of two backpackers, Louise and Malcolm.
They have established a group on Facebook where you can follow Samantha's progress (also known as www.travellingfishy.com). If you're a member of Facebook, please join the group and support Samantha's quest. Let's see how far this intrepid Mersey salmon can travel - and indeed, whether she will ever make it back to the banks of the Mersey!
We're going to let Graeme and Mark relax and get used to life after the rally for a few days (not to mention finding their missing luggage), but check back soon for their exclusive post-rally debrief.....