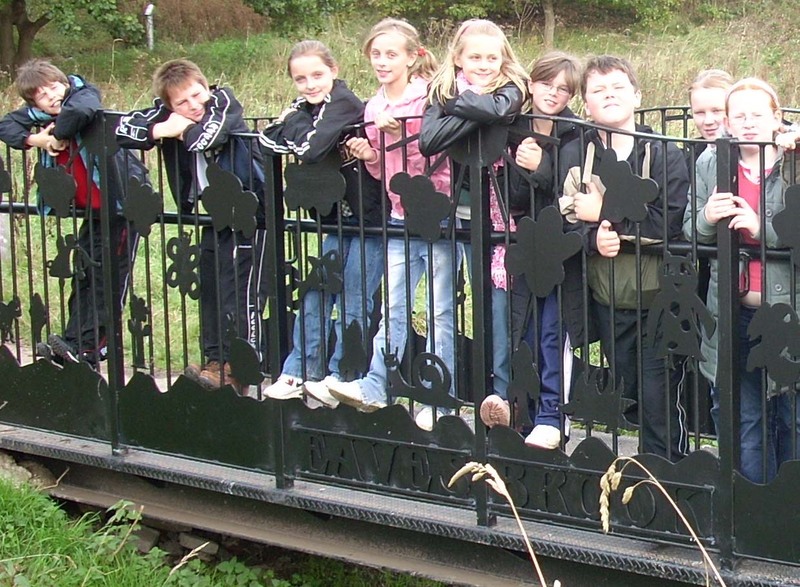 School children from a wide community celebrated the official opening of a new bridge that they all had a hand in designing.

The metal bridge over Eaves Brook in Grange Valley depicts animals created by children from Grange, Greenlands and Moor Nook Primary Schools in animation workshops at Grange Visitor Centre.


Led by artist Chris Davis, the children produced a short film about animals living in the valley that would befriend the dragonflies attracted by improvements to the brook. Chris then transferred the animals into shapes that could form part of the overall bridge design, which was manufactured by Howick Forge in Penwortham.

The finished article is now a unique reminder of the children's work. It forms part of the much-used footpath through the valley linking communities on both sides and is a wonderful replacement for the ramshackle wooden bridge that previously spanned the brook.


Funded by the Environment Agency the bridge is just one of the many improvements taking place along Eaves Brook in the wider initiative to improve Eaves Brook Linear Park.
Councillor Kate Calder attending the opening said, "This has been a great project with so many local children involved producing a fantastic piece of art for their local green space and providing a safe crossing point for the whole community."
Eaves Brook Linear Park is being created by a partnership consisting of Lancashire County Council, Preston City Council, Environment Agency, Lancashire Wildlife Trust, Action Ribble Estuary and One Voice.