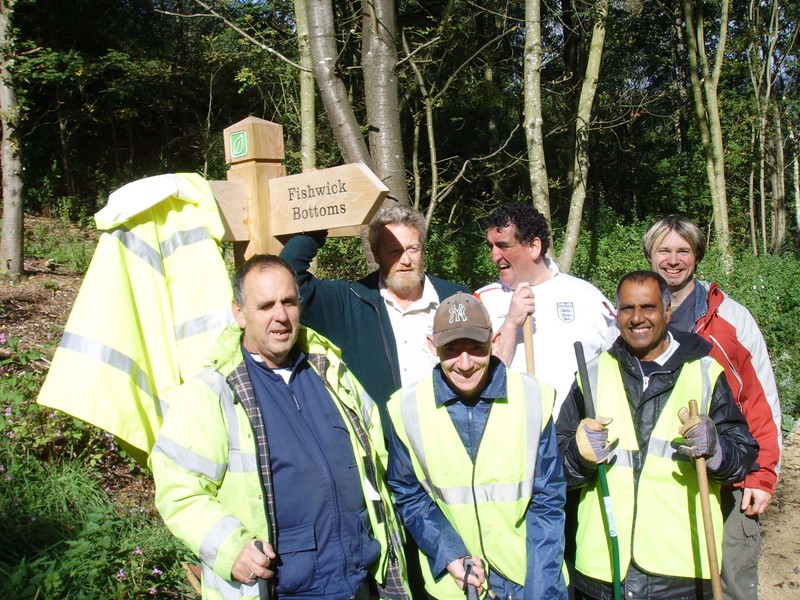 For the second year running, volunteers at Fishwick Local Nature Reserve (LNR) took part in a conservation project, as part of MWH Mersey Basin Week. The Mersey Basin Campaign, which supports projects in the Mersey and Ribble Basins, has awarded a £100 grant which has been spent on buying hand-tools for cutting to help with grassland management and weed control in the LNR
Volunteers from the Deepdale Centre, a Lancashire County Council day service centre, regularly work at the Fishwick LNR used the new tools for grass cutting and helping to control Himalayan Balsam. Other volunteers, supervised by the Lancashire Wildlife Trust, also helped to cut some of the areas of grassland and meadows around the Fishwick LNR.
The Fishwick site was designated an LNR in 2006 and has since benefited from extensive work to improve and create wildlife habitats and now has a network of paths to allow public access. Much of the habitat management is carried out by volunteers and the tools, purchased with the MBC grant, will be used many times on the seven grasslands found within the reserve.
Well done Fishwick volunteers and Preston CC Ranger Terry Blackburn for showing us that a Mersey Basin Week grant can be for life and not just for MWH Mersey Basin Week!