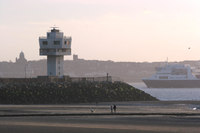 (picture (c) Colin McPherson, 2007)
The hottest ticket on Merseyside right now is undoubtedly the chance to see the shortlisted designs for the new Mersey Observatory. The proposed replacement for the existing radar tower at Crosby has been the subject of an international design competition, which drew 92 entries from around the world. The field has now been narrowed to five contenders, and all their ideas are currently on show at three venues in the area until 28th February:
Crosby Library (Crosby Rd North, Waterloo)
Mon, Wed, Fri 9.30am-8.00pm
Tue 9.30am-5.00pm
Thu, Sat 9.30am-1.00pm
RENEW Rooms (Tea Factory, 82 Wood Street, Liverpool)
Mon-Fri 9.00am-5.00pm
Sat-Sun closed
Seacombe Ferry Terminal (Victoria Place, Seacombe, Wallasey)
Mon-Fri 7.00am-7.30pm
Sat-Sun 8.30am-7.30pm
If you'd like to meet the steering group, or comment on the designs, why not pop along to one of the open forum sessions: CROSBY LIBRARY - 18TH FEBRUARY, 4.30pm-6.30pm / RENEW ROOMS - 20TH FEBRUARY, 12.00pm-2.00pm / SEACOMBE FERRY TERMINAL - 21ST FEBRUARY, 4.30pm-6.30pm.
There'll also be a live blog on this site of the session at the RENEW Rooms on 20th February.