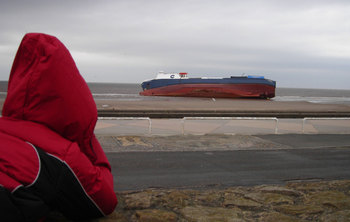 Photo taken at Blackpool on Sunday 2nd February 2008 2:30pm (look carefully to the right end of the ship and you'll see 2 men in fluorescent jackets stood next to the ship - gives an idea of scale!).
We had a family day outing to Blackpool today to see the latest coastal attraction there - a beached ferry. Lots of other people were also doing the same thing!
It's amazing to see such a huge ship from only a few hundred metres away. Walking up to our viewpoint, we could see the decks from over the road - quite spectacular to see in Blackpool! Apparently they have tried (in vain) to re-float the ship and it has moved along the coast since it was beached last week.
Follow this link to the story on Lancashire Evening Post website.