The winning design from the Mersey Observatory design competition has been announced this morning......and the winner is Duggan Morris Architects with their 'lamp and bowl' design. Check out the full story here.....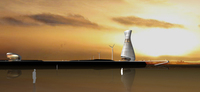 And here's the Liverpool Daily Post's take on it....
If you live in the area, this Thursday's issue of the Crosby Herald will be covering the story in depth. In the meantime you can also comment on their forum, or on this blog.
What do you think?