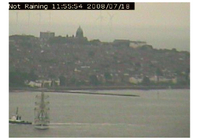 This weekend sees over 70 tall ships arrive in Liverpool's Wellington and Albert Docks, and local radio station Radio City have capitalised on their position atop St John's Beacon to provide a bird's eye view of the action. They have placed a webcam on top of the tower so that you can log on over the weekend and see what's happening on the Mersey. You can also keep track of the shipping movements using this satellite view as well. Be careful, I've learned from bitter experience that it can be quite addictive......
You can also watch an alternative webcam view from the Tall Ships Race official site where you'll be able to view the Parade of Sail in all its glory on Monday.
BBC Merseyside have provided some useful travel information, so if you're planning on seeing the ships in real life, check it out.....