On a beautiful balmy late September day, six enthusiastic staff from the Environment Agency's Ecological Appraisal team and Mersey Life Project descended on a Stockport woodland as part of the Agency's Environmental Leave scheme.
The event was organised as part of MWH Mersey Basin Week, by landowners Stockport MBC and Action Etherow and Goyt.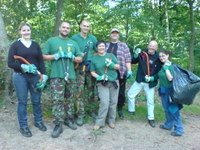 Poise Brook woodland is a beautiful yet little visited Local Nature Reserve just two miles from Stockport town centre. Following the production of a management plan, a successful £12,000 Greening Greater Manchester bid was submitted by Stockport MBC. This has allowed woodland management work to be carried out and new seating and interpretation to be installed.
The woodland management has involved removal of many of the mature beech trees that shade out the woodland floor, preventing many woodland plants from surviving.
Agency staff, along with Stockport's Nature Development Officer Emma Wilson and Action Etherow and Goyt's co-ordinator Mary Lee, worked tirelessly, (fuelled by some dinner plate sized pastries!), to remove some of the numerous beech seedlings and to do a litter pick.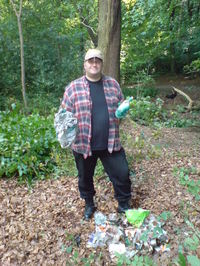 Ecological Appraisal Officer, Sharon Weaver said:
"It was good to get out as a team to do some practical conservation work and we would definitely do this kind of event again."
Emma Wilson, Stockport MBC's Nature Development Officer, remarked
"The Agency team worked really hard and made a great contribution to the management of the woodland."