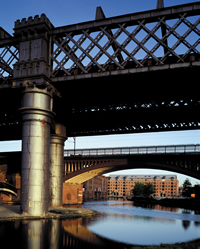 A broad consensus on the future of Castlefield in Manchester emerged from a spirited debate last night.
Broadly speaking, the panel and audience alike shared the view that Castlefield could become the antidote to the city centre's lack of green of space, with tranquil gardens and a children's play area making the most of its waterside setting.
Daytime events such as farmers' markets or craft fairs could help to bring people into the area. It should also link into surrounding attractions such as the Science and Industry Museum and Deansgate, and be better signposted. A lick of paint on some of the bridges and railings wouldn't go amiss either.
There was corresponding agreement that a return to the area's 1990s heyday as the city's drinking and party venue is now both unrealistic and undesirable. There are too many trendy new bars elsewhere in the city centre, and too many new residents in Castlefield, who, understandably, are not keen on living amongst drunkenness and excess every weekend.
The debate was provoked by a typically forthright article by local journalist Phil Griffin and published on the equally provocative Manchester Confidential website. Few people argued with his opinion that Castlefield has lost its way in recent years.
The practical upshot was an agreement to create a new partnership of local residents, businesses and the council to steer the area towards a brighter future.
Personally, I'm all in favour. There is huge potential for Castlefield to play a really important role in the life of the city centre. And it was encouraging to see that people have a strong sense that something needs to be done quickly, along with broad agreement on what it should be.
Well done to Manchester Confidential for setting the ball rolling – the task now is make sure it doesn't lose momentum.