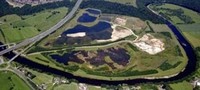 Lancashire Wildlife Trust has announced a competition for the design of new visitor facilities at Brockholes Wetlands and Woodland Nature Reserve near Preston. The competition is open to architects and design teams and is being organised via The Royal Institute of British Architects.

It is hoped that Brockholes will become a nature conservation site of regional, national and international importance and the building will inspire and encourage people to visit the site and engage with the natural world.
The facilities will include a café, shop, gallery, education and meeting rooms, and should aim to be a carbon neutral construction, drawing on local resources where possible.

For further information on how to enter please contact the RIBA Competitions Office tel 0113 2341335 or visit www.architecture.com/competitions. The submission deadline is Wednesday 19 September 2007.