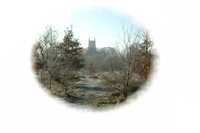 Delegates who attended the Cheshire Waters Forum on 5th July were given the opportunity to join a site visit to Wybunbury Moss, a Natural England National Nature Reserve. The moss is a rare example of "Schwingmoor" (floating bog) which consists of a raft of peat, floating on a lake 13 metres deep. It was formed during the last ice age, and is deeper than many other floating bogs because of a collapse beneath the peat, caused by subsidence of the underlying salt-bearing rocks.
Highlights included jumping up and down to make the earth literally move beneath our feet (including rocking the trees), and stopping next to an innocuous looking willow bush, which hosts 75 percent of the UK's population of a certain beetle which only likes small willow bushes that haven't been coppiced, on south-facing sheltered sites!
Tim Coleshaw from Natural England looks after the site, and provided a fascinating tour of the Moss, which isn't normally open to the public because it is dangerous to those who don't know their way round, and because it is so environmentally sensitive.
Despite the relentless rain, we all really enjoyed this rare opportunity to see and learn about such an unusual habitat. Thanks to all involved.