Staff from Government Office North West and the Mersey Basin Campaign donned their rubber waders and gloves and got stuck in (literally in some cases!) to the task of weeding out Reed Mace from the wildlife pond at Mersey Vale Nature Reserve in Stockport. The task was organised and lead by Stockport MBC's ranger, Rachel Bennett.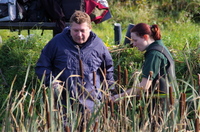 After the first few tentative steps, people were soon up to their waist in pond water with vegetation flying in all directions! There was time, however, to rescue a small toad and make sure it got safely home.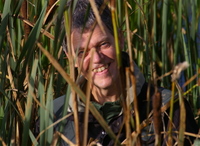 Great team work produced two truck loads of reeds and 13 very mucky and hungry people. After a quick clean up, a fabulous feast was soon demolished at Burnage Rugby Club.
The group then went on a tour of some of the lesser known sites of Stockport. Merseyway shopping centre was the first stop: not for some retail therapy (shame!) but to go underground to visit the source of the river Mersey, some 65 feet below.
The tour, lead by Merseyway Shopping Centre, revealed many fascinating facts about the river: like the numerous colonies of bats living in the culvert; fish species such as Roach, Chubb, Barbel, Gudgeon and the mighty Atlantic Salmon are now found in the river due to improvements in water quality. Otters have also been spotted both up and downstream of the shopping centre.
Next on the list was Stockport Art Gallery to see the photographic exhibition, 'Mersey: the river that changed the world'. The exhibition in Stockport has an added local flavour with features on local characters.
There were very positive comments about the varied programme of the day and we would particularly like to thank Rachel Bennett, Louise Murphy and Jo Ward from Stockport MBC; Bob Russell and Rebecca Tabener from Merseyway and Andy Green from Burnage Rugby Club for all their help.