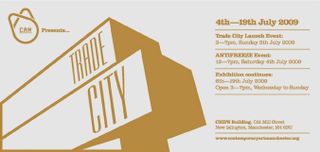 Just braved the rain for a sneaky peak at the fantastic Trade City exhibition, staged by Contemporary Art Manchester at the Will Alsop-designed Chips building on the banks of the Ashton Canal.
The exhibition brings together thirteen visual arts organisations, representing 26 artists, and exploring notions of trade and exchange both between the artists, and in the city's industrial past.
Preparations are at fever pitch for the show, which launches this Sunday from 3-7pm at the Chips Building, Old Mill Street, New Islington, Manchester, M4 6BU.
Trade City will be open Wednesday - Sunday 6th-19th July, and you can reach it by strolling along the Rochdale or Ashton canals - which would be particularly fitting next week, when the Rochdale Canal Festival kicks off.
Whilst you're about it, why not stick one of the Hearmanchester.com audio portraits on your iPod and grab yourself even more of an insight into the city's cultural or industrial heritage?