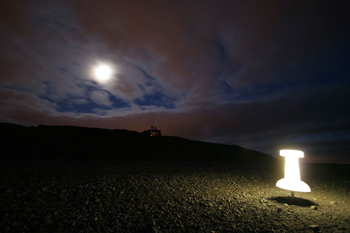 This fantastic light installation at Barrow-in-Furness is part of Art Gene's project "It's not as rough as it used to be", in conjunction with the Ultimate Holding Company. Each of the events / installations was located at one of Barrow's coastal 'hidden gems', and aimed to get people to discuss their potential for regeneration.
MORE INFO ON ART GENE'S WORK IN BARROW
Next up on Art Gene's agenda in Barrow are two events on Feb 26th - an afternoon symposium (2-5pm) looking at "Changing perception of what artists can do", and a private view of the new "Welcome to Paradise" exhibition.
If you're in the area check out Art Gene, Bath Street, Barrow-in-Furness, LA14 5TY.