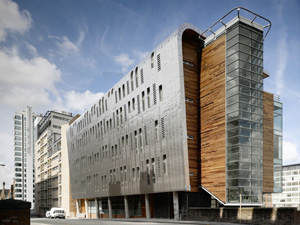 We were delighted to discover that our neighbours across Piccadilly Basin, BDP architects, have been shortlisted for the prestigious Green Building award. Their studio, which we often gaze longingly at across the canal, is Manchester's first naturally ventilated office building to achieve an "excellent" BREEAM rating. It is one of only three buildings to have been shortlisted in the Green Building category at this year's MIPIM.
Members of MBC staff were lucky enough to take a tour of the building last month, and find out about some of its eco-credentials. For example, it has a natural ventilation system that means it doesn't need any heating / air-conditioning (not much call for air-conditioning in Manchester, though, we have to admit). It also features low-emission lighting, and a rainwater-harvesting system that flushes the toilets.
The living brown roof - another Mancunian first - is specially designed to encourage the rare Black Redstart bird.
See what you think - here's a quick video we made whilst wandering round the building: